safety
SAFETY AT THE
FOREFRONT
All employees at Bayou City Industrial Contractors, Ltd. (BCI)
work together as a team to achieve our goals with Safety at the forefront.
Our objective of maintaining a safe workplace and protecting the health
of our employees, subcontractors, clients and the public as well as
preventing damage to property, material and equipment is
of utmost importance.
current emr:
0.73
3-YEAR TRIR:
0.00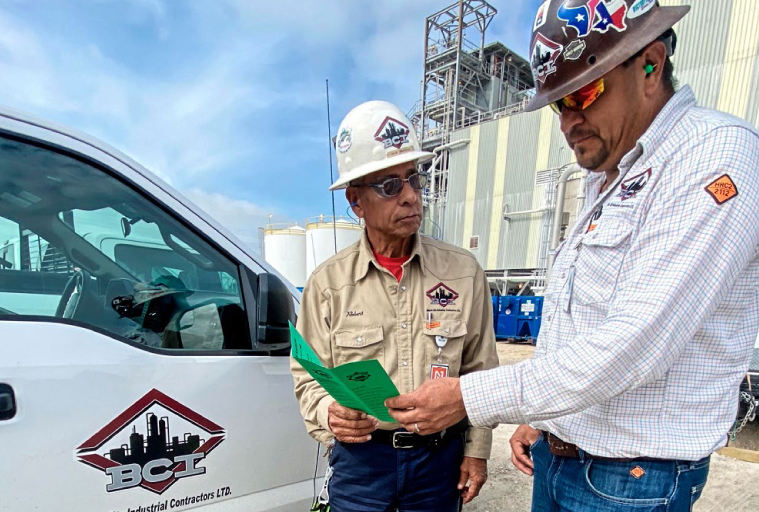 ZERO
TOLERANCE
We recognize that through training and the assurance of safe work
practices, BCI can have a positive impact on the operating costs
and profits of our clients as well as that of our own organization.
BCI has "Zero Tolerance" when it comes to compromising Safety.
It is essential, as well as mandatory, for all employees and
subcontractors to comply with all safety rules and requirements
of BCI and those of our clients.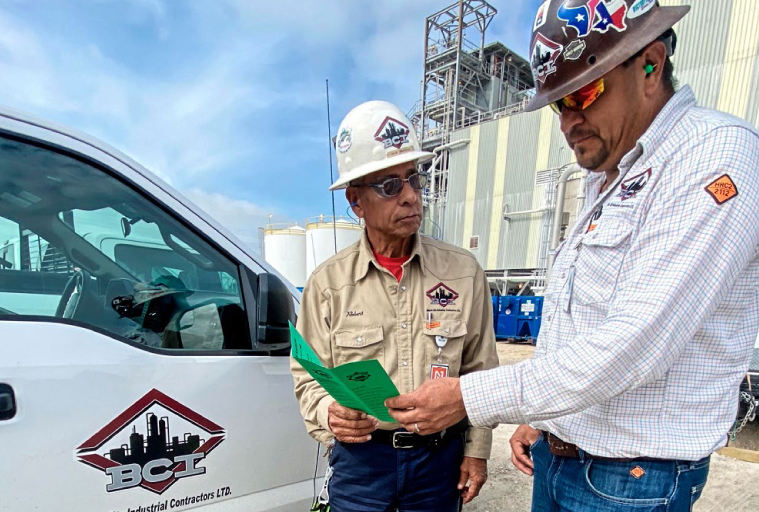 SAFETY PROGRAM
Highlights
Annual Craft Task
Specific Safety Training

Appointed Full-Time Safety
Manager with OSHA
500/510 Certifications

All Supervision have
OSHA 30 Certifications

Behavior Based Safety
"Take 2 for Safety" Program

All Civil Supervision
are competent persons
for Shoring & Excavations

All Supervision certified
in Scaffold inspection and erection

Safety Procedures Manual

Substance and Drug Abuse Program

Hazard Communication Program

Monthly Supervisor Safety Meeting

Project Hazard Analysis

Periodic and Random Safety Audits

Daily Tool Box Meetings

Safety Slogan Contests
our mission is
to ensure that:
A GOOD PROGRAM OF FIRE PREVENTION AND READINESS IS PROVIDED.
WE LEARN FROM THE EXPERIENCES AND MISTAKES OF OTHERS.
EVERY POSSIBLE SAFETY HAZARD IS IDENTIFIED AND ELIMINATED IN THE FIELD AS WELL AS IN THE OFFICE.
EVERY UNSAFE ACT OR CONDITION IS IMMEDIATELY DETECTED, REPORTED, AND CORRECTED.
SAFETY CONSCIOUSNESS IS INSTILLED IN ALL OF OUR EMPLOYEES AND SUBCONTRACTORS IN ORDER TO MAINTAIN THE HIGHEST LEVEL OF SAFETY.
Awards
2020 HOUSTON BUSINESS ROUNDTABLE SAFETY EXCELLENCE AWARD
ABC EXCELLENCE IN CONSTRUCTION 2019
ABC STEP GOLD SAFETY AWARD 2013 THRU 2019
EL DORADO NITROGEN'S CONTRACTOR OF THE YEAR 2012
SAFETY AND QUALITY AWARD
ECONOMIC ALLIANCE PORT REGION 2007
BUSINESS OF THE YEAR / LA PORTE AREA
2004 HOUSTON BUSINESS ROUNDTABLE SAFETY EXCELLENCE AWARD
ANHEUSER BUSCH 2001 SAFETY AWARD
ANHEUSER BUSCH 2000 SAFETY AWARD
HOUSTON 100 2000 - FASTEST GROWING COMPANIES
HOUSTON 100 1999 - FASTEST GROWING COMPANIES
HOUSTON 100 1998 - FASTEST GROWING COMPANIES